If your business operates from a physical location which your customers can visit or operate an online store you should make your address and contact information as easy to find as possible – so if your client wants to visit one of your stores/showrooms or send back an order they can easily find your contact information. You should already have your Google My Business listing set up and optimised, but another thing you could do which would benefit your GMB listing as well as be beneficial to your website visitors is to create a local landing page. A local landing page is perfect when you have one or multiple physical locations, many of the points covered in this guide can also be used to improve your contact page.
What makes a great local landing page?
A great local landing page can be split into 9 key features, these include:
A clean URL
Relevant keywords in H1 title
Google map of the location
NAP data (Name Address Phone)
CTA buttons
Special info
Location features
Social proof
Social media widgets
1. A Clean URL
It is very important that the URL address of your local landing page is clean. But what makes a clean URL in this case? Firstly, you should keep it as short as possible. Try not to nest it under too many subfolders as it could become hard for search engines to discover and also understand the URL structure. Ideally you would have it located under one subfolder which would be a page dedicated to all of your location pages:
https://yourdomain.com/locations/location-name
The /location-name should reflect the location of your physical location, If for example you are the owner of Bobs Plumbing Supplies and you have a store in Swindon best practice would be to set the /location-name to /swindon.
2. Relevant Keywords in H1 title
Here is your opportunity to title the local landing page and briefly describe exactly what it is about. You might find with some of your locations that you offer different services/products at each, this is your chance to help your customers understand what is available at each location. If you find this is not the case you should still use this opportunity to describe your products/services available at this location. Like in the previous example the owner of Bobs Plumbing Supplies would want to make his H1 be something like:
Swindon – Plumbing supplies store
It is not necessary to include your brand name in the H1 tag. Keyword research should be completed to include relevant money terms and help optimise for the correct intent. Remember to keep your H1 tag no longer than 70 characters.
3. Google Map Of The Location
Adding a map you the page will help your visitors plan their route and understand better where your store is located. You might want to use a map HTML code generator such as: https://www.maps.ie/create-google-map/ to generate a snippet of code you can add to the page. This will make the whole process much easier and also allow you to adjust the dimensions and extra information to suit the design of your page.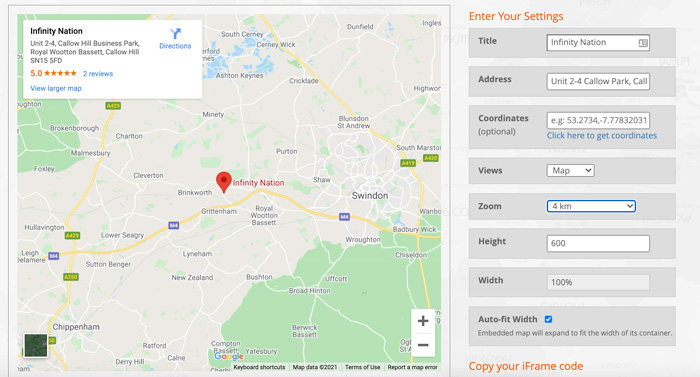 4. NAP data (Name Address Phone)
The most important part of your location page. The name of your location is should already be clear from the H1, now it is important to make sure that the Address and Phone number is clearly displayed and easy to find. On top of this information you might want to also include information such as opening hours and guide of how to find your location.
5. CTA buttons
Call to action buttons guide your visitors to commit to an action, whether it is to call, email or text your business. Best practice would be to keep this to a minimum, the goal with these it so make it easy for your customers to contact you if they have any questions.
6. Special info
If some of your locations are offering a special discounts, events or promotions this is your opportunity to share it with your audience. Be careful not to go overboard with this section as it could take away from the other sections on the page, and take the visitors focus away from the important information that they might be looking for.
7. Location features
Just like the attributes option on your Google My Business listing this is your opportunity to detail the services and amenities available at the location. This should rather be a bullet point list rather than a large paragraph section. Depending on the design of the page you might want to limit the services to 5 and amenities to 3 to not over load your visitor with too much information. Keep these as your main services offered at the location. An example of amenities would be: customer toilets, wheelchair accessible entrance, customer parking, etc.
8. Social proof
Social proof is important to give your potential customers the confidence to pull the trigger and purchase a product or service. Seeing positive reviews from past customers will give your visitors a better understanding of what they should expect from the final outcome and also reassure them that your business offers a service as described.
9. Social media widgets
Finally, social media widgets might already have a place in your footer or at the top of all your pages but another place you should consider adding them is on your local landing pages. The main reason for this is to help convince your customers that you are a credible business. In addition this also will help Google to add social profiles to each of your Google My Business listings.
Summary Section / Conclusion Section
If your business has many physical locations it operates from, services it's customers from or your customers can visit then you should consider building local landing pages for each of these locations. This guide can also help you improve your current local landing pages. As a final note, remember to also use schema to mark-up your data.
If you are interested in working with Infinity Nation and to discover how we can help you grow your brand, please do get in touch and we would be happy to meet you, alternatively contact us via our contact form.
DO YOU WANT TO PUSH YOUR DIGITAL GROWTH STRATEGY FORWARD? LET'S CHAT.
Interested in working with INFINITY NATION to create a successful digital experience for your company or product?
Get in touch to set up a meeting with our team.