Getting your landing pages optimised and ready for days such as Black Friday, Valentine's Day or Cyber Monday can be hit or miss. A lot of time needs to go into preparing before the actual date, and on the day you're mainly waiting and hoping that all your prior efforts will work.
Here are our SEO tips for a great seasonal landing page:
Remember to Plan in Advance
New pages take time to organically rank, it can take serval months for new pages to appear in the rankings. As an example, terms around Black Friday are going to be highly competitive, and the page will need as much as possible for them to gain higher ranks –creating the page as early as possible or reusing the same page every year for the promotion can work.
Write Meaningful & Relevant Content
You want to make sure that all of the content on the page is as relevant and up-to-date as possible relating to the seasonal event as possible. Look for timely references to things that may have happened in a specific year or statistics, if outdated for the actual year then your page relevancy may suffer.
If the content isn't specifically tied to a certain year, you can add relevancy to a year in the meta title or meta description. An Example of this; The Best Shops the Best Black Friday Deals on TVs for 2022
Make sure of Seasonal Keyword Research
We have a post all about explaining seasonal keyword research if you need a quick refresher. For your seasonal landing pages, you will want to work relevant keywords throughout your content in a natural way taken from your keyword research. Ensure your headings and subheadings are using relevant keywords.
Avoid keyword stuffing, and overusing keywords within the content. You want your headings and paragraphs to read naturally.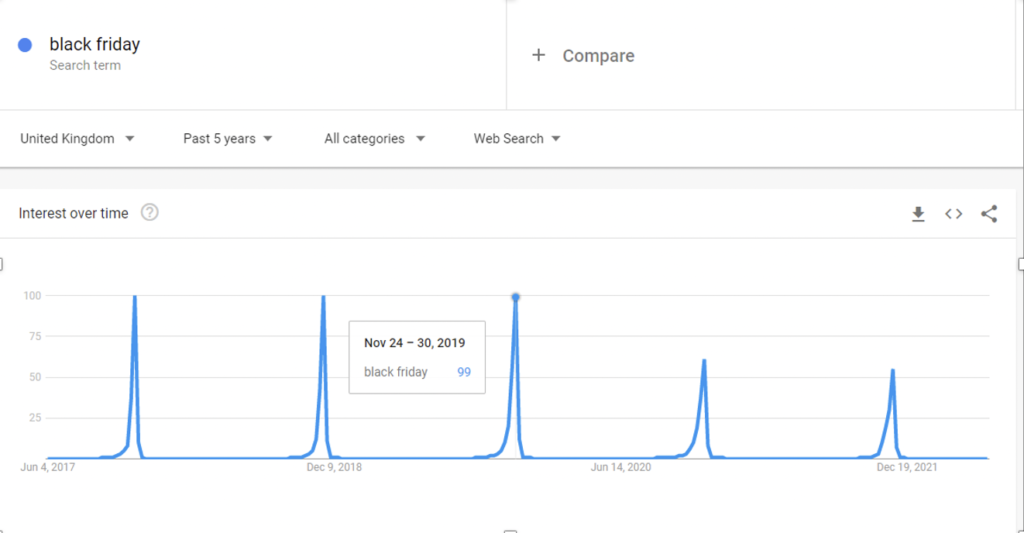 Don't Delete Your Seasonal Pages
If you are consistently creating promotional or landing pages for a particular period, do not delete them – keep them all year round. Pages generally gain more authority the longer they've been lior, when a user searches Google for a query around Black Friday and your blog about Black Friday deals has been live for over a year it's more likely to recommend yours over a similar page with less.
Make sure to give the content a refresh every year so it's as relevant as it can be and optimised better.
Do Not Use Timestamps in The URLs
Nicely moving on from not deleting your seasonal landing pages, when creating the landing page avoid using dates in the URL. If you are going to use the same page each year something like /black-friday-deals-2022/ as the URL will not be as relevant in 2023/2024. Changing the URL further down the like could lead to a bad user experience if it brings up an error 404 page.
The importance of Optimising Seasonal Landing Pages
Landing pages aim to convert more than other pages because they are focused on a goal, topic or specific call to action. We've looked at seasonal landing pages, as the name says these are seasonal events and your usual page content might not be relevant for the search queries that seasonal events bring, optimising and creating these landing pages that aim to target seasonal-specific queries will help you achieve you desired conversion rate
DO YOU WANT TO PUSH YOUR DIGITAL GROWTH STRATEGY FORWARD? LET'S CHAT.
Interested in working with INFINITY NATION to create a successful digital experience for your company or product?
Get in touch to set up a meeting with our team.