Black Friday 2022 is still a little way off, but it is never too early to start planning. We've unpicked the trend and shopping behaviours we saw last year and given some insight into our predictions into this year's event.
The impact of restrictions and lockdowns on footfall in retail is apparent. Even with all restrictions lifted months before the big Black Friday event in-store sale did not return to the pre-pandemic levels with many shoppers preferring to stick with online shopping instead.
These deeper changes, some of which were already in motion before the pandemic hit the accelerate button have certainly changed the retail market. For instance, we have seen that shopping has become much more purposeful, with many consumers checking out with much more valuable baskets. This year with rising daily costs shoppers have much less disposable income and therefore any shopping undertaken will be with a much higher intent.
Figure 1 – graph by Sensormatic Shopper Sentiment Report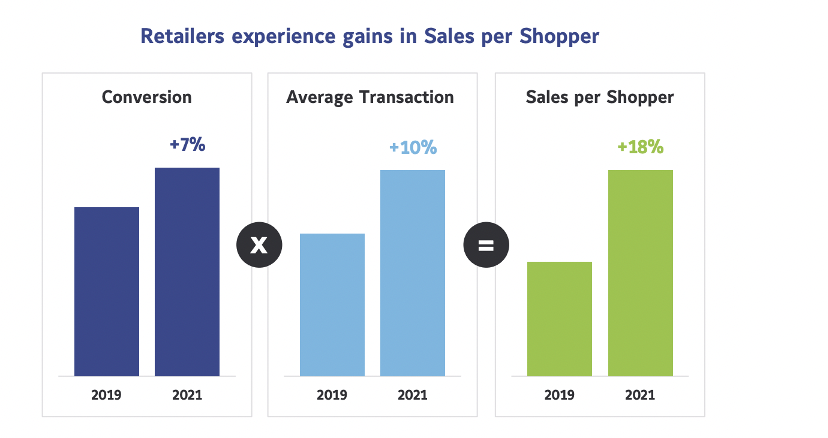 Key considerations for Black Friday 2022
Based on these growing shopping habits what trends can we predict ahead of the big shopping event in 2022?
Sustainability
73% of consumers said they wanted to be more sustainable in 2021. Shoppers have an ever growing awareness of the need to shop sustainably specifically around packaging issues. This highlights a high probability that this will be a key factor when users shop online this year. Shoppers are likely to favour independent and local stores who endeavour to match their ethical values over big brands such as Amazon. It would be beneficial to include any sustainable business benefits and offerings you have alongside the typical promotional copy to appeal to customers looking beyond just the biggest financial saving.
Early Christmas Shopping
Early Christmas shopping boosted Black Friday sales last year with a third of consumers starting their festive shopping in November. With many shoppers wanting to avoid any chain disruptions, shipping delays or price increases. Starting campaigns early enough to have enough data to optimise for peak performance is essential and it's a good idea to tie your Black Friday promotions to work seamlessly alongside your wider Christmas plan.
Price and Promotions
As we've already briefly touched upon price is key when it comes to Black Friday promotions and with this year economic uncertainty and rising inflation rates sensitivity to pricing and promotions will only increase. Coupled with the face that pricing has been the number one consideration for the past 2 years proves it will remain key.
Summary
Although footfall has yet to fully recover to pre-pandemic levels, we have seen recovery across traffic patterns and uplift in online baskets particularly with higher average order values. This year we can expect to see an improved importance across online shopping with consumers actively searching earlier than last year for those deals. But with an expanded focus from just price offerings to looking into companies with matching ethos.
If you are still struggling with where to start in prepping for your Black Friday sales take a read of our previous blog How to Prepare for Black Friday, give us a call or head to our contact page to get in touch with us.
DO YOU WANT TO PUSH YOUR DIGITAL GROWTH STRATEGY FORWARD? LET'S CHAT.
Interested in working with INFINITY NATION to create a successful digital experience for your company or product?
Get in touch to set up a meeting with our team.