How to Balance Your Marketing Spend in a Downturn: to increase or not to increase?
Do you need to increase your marketing spend, and if so, where? Find out about:
Current market channels and new trends.
Consumer market spending in the last few months and the upcoming Christmas period.
At Infinity Nation, our client's success is always at the forefront of our minds. With rising costs and looming recession, many companies are considering reducing marketing spend. On the flip side, this might not be the case with it being the run-up to Christmas and Black Friday. One common question we've been hearing a lot from clients is whether to raise their marketing budget or not for Q4.
Where should I spend my marketing budget?
If you do decide to increase marketing spend, where do you increase?
Should it be in SEO, Paid search, PPC or Social? The bottom line is it depends on what your objectives are and what you want to achieve. Do you want growth, or do you want direct sales? Google Ads are a great base if you want direct sales but that does depend on your potential customers knowing your business and googling it by name…
What have we been seeing?
What we have been seeing at Infinity Nation is that many people are not taking it back to basics. If your site isn't ready for upcoming promotions or sales, then performance and user experience are going to drop.
We are seeing a lot of clients coming to us for SEO to get their sites ready for the Christmas period. Wherever you choose to increase your marketing spend you need to make sure your whole ecosystem of marketing channels is working in harmony, so cannibalism does not happen (especially PPC).
Yes, cannibalism! This term has been thrown around a lot with our clients and their current concerns after a troubling October. For those of you who don't know what this is, regarding PPC it's when an account is bidding against itself in the auction. It is usually a factor when the keywords in an ad group don't have ad group negatives, so 2 or more ad groups can be applicable to be entered into the same auction. However, don't let that put you off increasing your spend this Q4.
What our eComm Masterclass taught us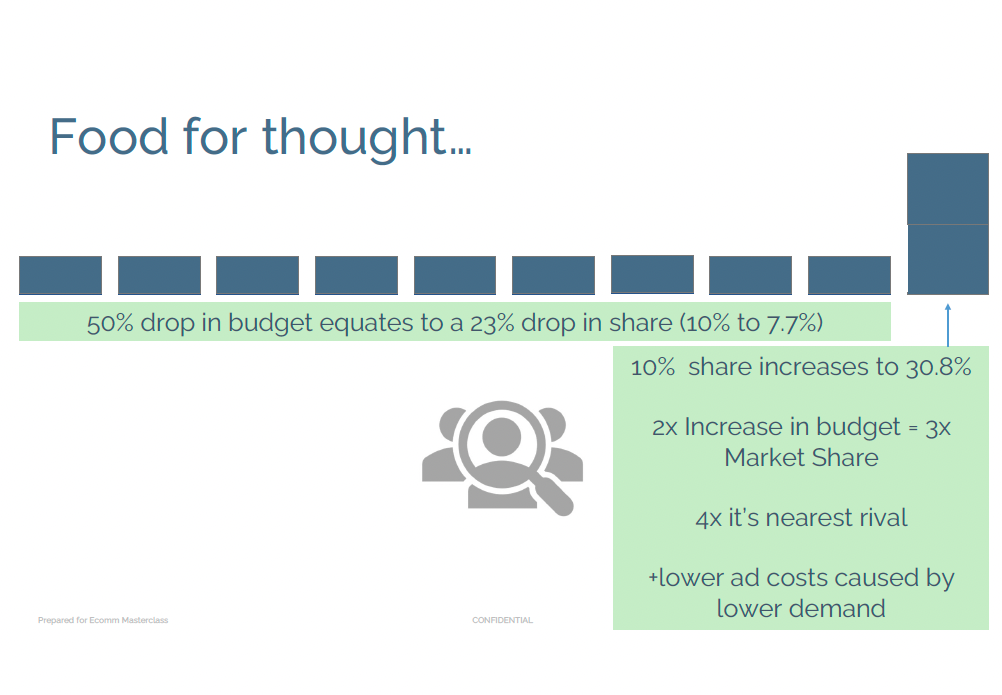 From our recent Masterclass, Stacey Wilson COO at Infinity Nation explained that increasing your marketing spend in a recession is the right thing to do, as explained below: 
So, let's imagine that 10 businesses share a market, a recession hits and 9/10 companies halve their marketing budget. The 10th business doubles its marketing budget.
A 50% drop in budget equates to a 23% drop in share (10% to 7.7%) but the 10% share increases to 30.8%. It also results in lower ad costs caused by lower demand. Bigger market share and lower costs – a no-brainer, right?
Why increasing your marketing spend works
A great example of a client whom we have helped by increasing their marketing budget is the EU E-commerce award-winning work we did with Herman Miller. During Covid, Herman Miller quadrupled online sales after teaming up with eCommerce growth partner Infinity Nation. Together, we created an exceptional direct-to-consumer offering, transforming this B2B wholesaler into a D2C retailer. Herman Miller set 3 objectives:
Thrive and grow in the UK and expand into Europe.
Establish as the go-to place to buy office furniture and accessories for home and small business offices.
Reduce reliance on dealers and their retail channels.
As it was during covid, we decided to change up our strategy. With the increasing demand for home and remote working, thanks to a changing global marketplace and workforce, the time was right to make the leap and take the business to the next level with a 3-fold strategy:
Creating brand awareness
Capitalising on promotional peaks and market demand
Improving customer loyalty
The result was astonishing – Our Black Friday campaign in 2020 hit a company-first online revenue milestone and drove a YoY increase of over 20%. Alongside a 400% increase in online sales. The newly migrated UK website is a major success, and in 2020 and 2021 was named the fastest-growing store in the Herman Miller group.
During a time when everyone cut back on spend, Herman Miller increased. The results show that the theory works and could work for you.  
Get in touch today to see how we could help your business during these challenging times.
DO YOU WANT TO PUSH YOUR DIGITAL GROWTH STRATEGY FORWARD? LET'S CHAT.
Interested in working with INFINITY NATION to create a successful digital experience for your company or product?
Get in touch to set up a meeting with our team.