Keyword Research for Seasonal Campaigns
Creating your content strategy and planning great content is just part of making great written content. It's easy to forget about keyword research when writing a 1000-word blog, but when effectively it can help you understand what you should be writing and what terms and phrases you should include in your copy to reach your audience.
We already have a blog about understanding keywords so we're not covering the basics Here. We want to understand the benefits of seasonal keyword research. The methods used and why is it important to do extra keyword research on top of your keyword research.
Seasonal Keywords – What are they?
Seasonal Keywords are keywords that generate most of their traffic during a certain period of the year. Some obvious terms that you would assume relate to holidays – Valentine's Day, Christmas Day etc – all have traffic concentrated on a single month. Whereas traditional keyword research focuses on seeing search volume over a monthly average which can cause some 
What is The Value of Seasonal Keywords?
During holiday seasons search trends change in a short period of time, people start searching for terms they only use once a year, and you may need to adapt and develop new copy to use keywords that are related to these holiday seasons. Without optimising your content to stick with these trends you potentially miss out on a large part of the holiday traffic.
Google Trends for Seasonal Keywords Research
You'll need to understand the basics of keyword research, and how to gather and discover your keywords. Google Trends is a great tool for seasonal keyword research, it gives you the ability to filter down to specific dates and time ranges. You'll be able to plan months ahead by seeing what happened in the past years.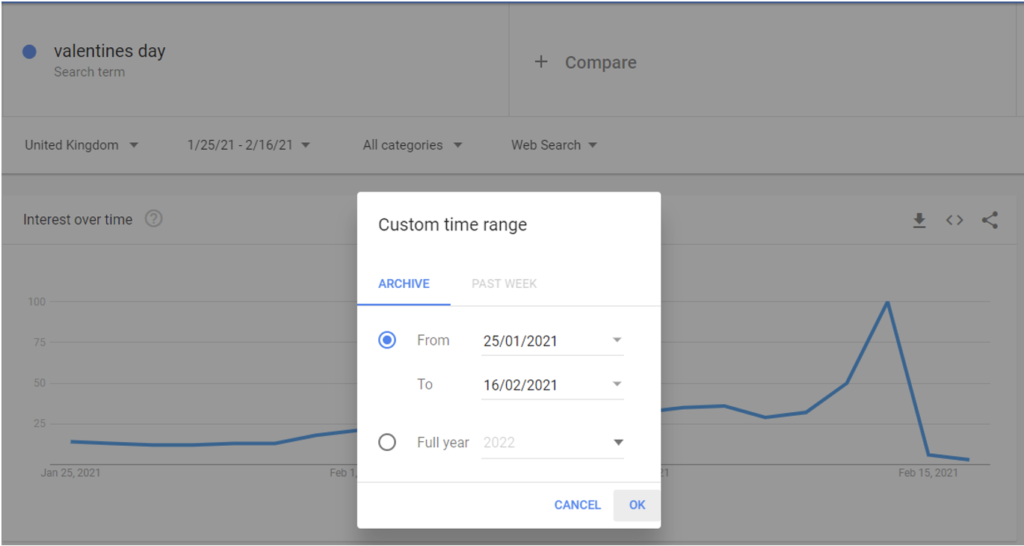 Usually during keyword research, we will want to avoid temporary popular keywords, but these are the keywords that can be the best for us when optimising content. Sales periods happens at the same time every year. Take for example Black Friday, Google Trends shows us that keyword traffic starts building up in early to mid-September. That the content has had time to be picked up by Google and start ranking before this timeframe starts. We have learnt all this just from Google Trends alone and without this knowledge, it's possible to miss out on all that traffic.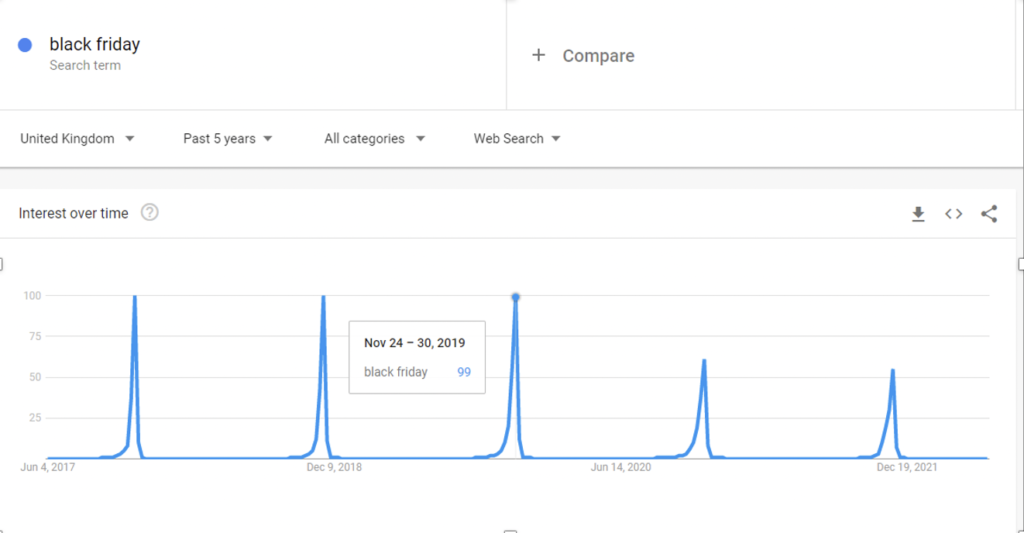 Start planning a few months in advance
We just briefly mentioned that you'll want to start ranking before the surge of volume, but how long does it take for SEO efforts to take in to account. SEMrush states that to see results, you'd typically have to wait 6-12 months. This means that working on your SEO for seasonal keywords a month before won't yield the same result if you started your efforts 4-6 months before the event.
The estimate here is based on the time after you make the changes live, keep in mind that you'll need to consider how long it is going to take to produce and publish this new content.
 Do Keyword research for the seasons you want to target 
With so many holidays throughout the year, it's easy to get distracted and see all the opportunities and try to optimise for all of them. The time investment required to effectively rank for seasonal content is large and splitting your resources up could be detrimental to content that will be more beneficial to your market 
Keyword Intent
Keywords have different commercial intents. We commonly see 4 types of search intents, Informational, Commercial, Transactional & Navigational. These give us a good idea of what type of content the user is looking for when using a particular keyword. The breakdown of each the intent:
Commercial – The user wants to investigate brands or services
Informational – The user wants to find an answer to a specific question
Transactional – The user wants to investigate brands or services
Navigational – The user wants to find a specific page or site
When is Seasonal Keyword Research Useful?
Generic keyword research is still necessary to effectively optimise content, whether it's product copy or blog posts. But when your content relates to a holiday this is when you will need to carry out seasonal keyword research.
Black Friday
Black Friday is one of the largest sale periods for many eCommerce stores, every year it follows the same trend of having a massive spike in traffic around Black Friday terms.
Our Top 3 Historic Black Friday Terms
Black Friday Deals  
Cyber Monday
Black Friday 2018/2019/2020/2021
Christmas 
Again, a very popular time for shopping, but the terms are much broader and harder to tailor specific content towards. 
Our Top 3 Historic Christmas Terms
Christmas Gifts
Christmas Nails
Office Christmas Party
 Easter
Unlike Christmas, there is a small number of products that increase in volume and sales. For example, Easter Eggs are only sold around easter.
Our Top 3 Historic Easter Terms
Easter Egg
Easter 2020/2021
Vegan Easter Egg
Summer
Seasonal shopping habits and weather have a massive impact on what people are searching. During the summer clothes that are made to be designed to be worn during warmer weather will have trend increases. For example, swimsuits, summer dresses and sunscreen.
Our Top 3 Historic Summer Terms
Summer Dresses
Summer Cap
Summer season 
Are You Ready for Next Holiday Period? 
Key takeaways you now need to ask yourself:
Could you benefit from creating keyword optimised relevant content?
How is your content setup for these seasonal periods?
Have you planned far enough in advance to take full advantage of the time for your changes to take place?
DO YOU WANT TO PUSH YOUR DIGITAL GROWTH STRATEGY FORWARD? LET'S CHAT.
Interested in working with INFINITY NATION to create a successful digital experience for your company or product?
Get in touch to set up a meeting with our team.