What is Data-Driven Attribution and Why Is Google Telling Me to Make the Switch? 
Before anything else, we are specifically talking about the Data-Driven Attribution (DDA) model in the Google Ads platform and not the one in Google Analytics. The concept is still the same, however, the scope is very different. DDA in Google Ads will refer to the attribution for different campaigns that we have inside the ad account while DDA in Google Analytics will refer to the attribution for the different channels where the traffic or conversion to the website will be coming from. 
The Data Attribution Problem 
As we all know conversion tracking is one of the most important things in the Digital Marketing world. After all, they are the numbers on that we as marketers, base all our decisions and performance analyses.
In an ideal world, we expect customers to see one of our ads, click through to the website and purchase, et voila – we've got 1 conversion and it's attributed to our ad. I'm sorry to break it to you, but that's not always the case. We haven't got the exact numbers, but we know that people don't click ads and buy straight away 100% of the time. They might ponder for days or turn their attention elsewhere, carry on with everyday life and then remember, "oh yeah, that leather sofa that I saw on Google Shopping would look good in the living room. I think it was David Phillips, wasn't it?" Just like that, said person might go directly to the website and make their purchase.
This is common human behaviour. The problem we face is that this purchase will be attributed as coming directly through the website and the ad in question will not be credited with causing the conversion. Does that give us the best picture of the conversion? Absolutely not. To address this situation, Google has created different Conversion Attribution Models, as you can see in Figure 1.
Google's Attribution Models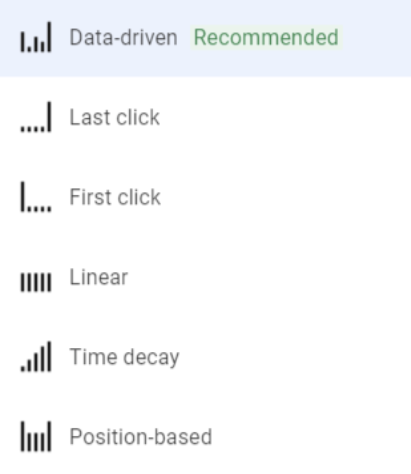 Figure 1. different conversion attribution models that can be set within google. 
Each model shares a % of the conversion to different touchpoints depending on their position in the purchase journey. More detailed explanations of the differences between models and their pros and cons can be found in Table 1.
Table 1. Differences between models and our view on it
In the past, the most used model was the Last Click model. This attributed the conversion solely to the last touchpoint in the purchase journey. This is becoming outdated and now Google is recommending using a Data-Driven Attribution (DDA) model instead. But why does Google recommend it, and should we be using it? 
What is a DDA model?
For illustration purposes, figure 2 explains the difference between how the DDA model differs from the Last Click model.

To put it simply, DDA splits that 1 conversion and attributes that to all touchpoints that contributed to that conversion appropriately. So, with the DDA model, now you can see the conversion as a fraction instead of a whole number. Does it make sense now when the conversion number shows as 1.5 instead of 2? The fraction attributed to each campaign is determined by previous data, with Google giving more credit to those interactions that the data suggests have been more influential in the purchase decision.  
Does DDA reduce/increase overall conversions?
In short, the total number of tracked conversions will not change, however, the split by campaign will differ. As growth partners to our clients, it's important to us that we retain a view of overall performance, rather than being too single-channel-minded. The question therefore shouldn't be focusing on one channel and how the attribution can benefit this one channel, but instead, "does this give us better insight into overall performance and does it help us improve performance" 
Is DDA Always the Best Model? 
The recommendation from Google may encourage you to believe that DDA is the best attribution model for all those able to apply it. We've found that to be a generalisation and the best attribution model can often depend on the nature of the journey, the amount of consideration needed for your conversion event, and the amount of data that can be passed back into the model. For DDA to be effective it needs a minimum of 200 conversion events every 30 days, so for smaller accounts or bigger purchase decisions, there may not be enough volume for DDA to work. In those instances, conversion modelling can be compared in Google Ads for the other models to identify the influence that campaigns are having.  
Time is important!
Because it captures the whole customer journey, time is very important for DDA. When reviewing data, you may see that comparing over a 30-day lookback shows minor differences between DDA vs Last Click. But when the data used was 90 days, the difference is larger. This is because there was a larger dataset to look at.  
Do We Recommend DDA?
DDA is in line with our growth mindset. By knowing the conversion journey properly, we can align that with our channel optimisations. Where there is enough data to make the model robust, we would recommend switching to a DDA model.  
Will We Lose Previous Data?
No. The previous conversion will be as it is. See figure 3 for an example of how data changes after the model are switched. In this instance, a time decay model was used previously and changed into DDA in December 2021. These data were exported from an actual Google Ads account, and it is safe to say that Google gives us the option to look back and compare the historical data with the new model. To be honest, DDA is just advanced time decay with fancy machine learning. 
The Data-Driven Attribution model – time to make the switch
The Data-Driven Attribution (DDA) model is the new conversion attribution model from Google. It aims to capture the whole customer journey from start to finish and attribute that appropriately to all campaigns involved. When there is enough data to feed into the model, it can offer a more accurate representation of Google Ads performance and allows us to make better-informed decisions.  
DO YOU WANT TO PUSH YOUR DIGITAL GROWTH STRATEGY FORWARD? LET'S CHAT.
Interested in working with INFINITY NATION to create a successful digital experience for your company or product?
Get in touch to set up a meeting with our team.