In challenging times, it's tempting to scale back and wait for the storm to pass. When the economic outlook is uncertain, one thing you can be certain of is that customers are still out there. Read on to discover tips for Supporting Ecommerce Growth despite challenging trading circumstances. You'll find out:
What the common concerns are amongst senior e-commerce marketers right now
Market trends and benchmarks
What you should do, to cut through the competition and win the customer
The e-commerce market paints a consistent but anxious picture
We've been discussing current successes and challenges with our clients, and our extended network at our quarterly ecommerce collective events.
These events and client meetings give us a great window into where the anxiousness is coming from, at present, as well as hearing ways that ecommerce brands are finding cut through and still winning the customer in difficult times.
In their most recent report, "ecommerce leaders' opinions on growth strategies for 2023", IMRG suggested that the total ecommerce market will decline between -1% and -7% in 2023.
For ecommerce marketers, it's hard to stay positive and consider strategies for growth, but with the peak retail trading period upon us, it's now or never to give your brand the best shot for growth in 2023. Concerns amongst the Ecommerce leaders echo what we have been monitoring over the last 24 months, through our ecommerce collective events: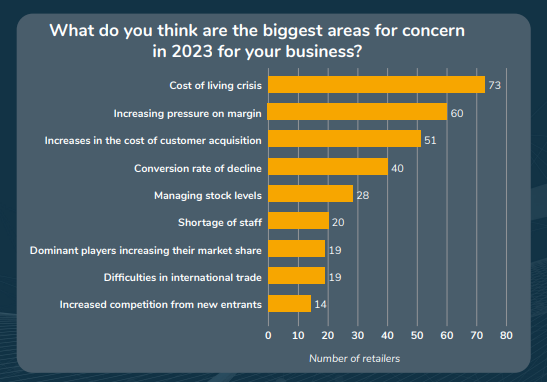 While there are no solutions to all the challenges we are facing, it can be reassuring to know that others are being kept awake at night by the same concerns.
The ecommerce technology landscape is represented, mainly by out-of-the-box platforms like Woocommerce, Shopify and (to some extent) BigCommerce and Magento. This can present huge opportunities for SaaS developers, who use these common challenges to drive new app and product development to solve customer acquisition and retention problems.
Ecommerce Benchmarks – Are your results normal?
Our media and SEO teams, converge and compare results and trends each month and quarter, to identify common themes being seen across our clients.
We also partner with data intelligence platforms, including Sweet Analytics, who have released their Benchmark Index – allowing brands with relevant tech stacks to seamlessly integrate their website platform and receive invaluable insight into GA benchmarks and variances, as well as topline metrics like AOV and average units per order, to see how they are stacking up against the whole ecommerce market, and subsectors.
Recent insights from our client base and these tools from July included:
Google Ads
-3% trend on CPC

CTR stayed consistent with June

Conversion rate is seeing the highest impact (-28%), and it appears that the weather is partially to blame

AOV is down – and is impacting overall revenue

Meta showed a different picture, with many of our clients seeing improved performance on this channel in particular:

CPC -10%
CTR + 11%
Conversion Rate +12%
Looking to the wider ecommerce market, IMRG's retail index cited a 10% decrease in growth in the first couple of weeks of July compared to 2022.
Conversely, SME's seemed to buck this trend and came out on top; despite the damp weather conditions, Sweet Analytics' July benchmarks suggested a +46.9% sales variance and 54.2% business being up on 2022.
In addition, the tool suggests that the consumer is making very different purchasing decisions this year, compared to 2022:
Total SME Ecommerce market Return Rate = 15% (up 60.1% on last year)

Houseware, Home Furnishings and Garden = 6.3% (up 14.6% year on year and 5000% on 2021)

Fashion / Apparel & Accessories saw a 37.4% return rate (90.7%) up on last year

Footwear, specifically was 33.1% last month (12.1% up on 2022).
We've seen the impact on some of our garden clients, specifically – the weather has not been kind and has caused a more cautious purchasing approach from consumers, compared with 'good weather' years like 2021, when the sun was much more bankable, throughout the season, to make investment purchases.
So what can you do, to win the customer?
We've rounded up some top apps and tips for improving your core KPIs and metrics.
1) Don't pause your prospecting activity
We know, we know! Digital partners are constantly telling you that they can't track the activity back to sale but it supports the overall conversion journey.
Trust us, we've learned the hard way that pulling back on prospecting will reduce your total addressable market, and therefore impact the conversion funnel.
This year, we have also run tests to switch off prospecting and have recorded the impact on 'direct' attributed sales and revenue in Google Analytics. In nearly all cases, this prospecting activity was doing its intended job. In the case of paid social, it's not paid social's fault that Google won't track the activity accurately.
And if you'd like more visibility over your paid social campaigns, we'd recommend working with Littledata's Meta solution, who use the Facebook Conversion API to pass back and match much more closely between Shopify and Google Analytics data.
Of course, it's not just Paid Social that acts as a prospecting channel – Google Ads non-brand search, programmatic display and SEO long-tail or head topic targeting all work to drive new visitors to your website, at different stages of their awareness-conversion cycle.
If you are restricting the number of eyeballs on your brand, then it's no surprise that the back-end (sales and revenue) metrics will suffer, over time.
2) Look at the topline figures and manage activity to these targets
In a world where even Google is blurring the lines on how to attribute success to its channels (I'm looking at you, cross-network channel grouping!), we need to focus on the total acceptable acquisition cost, or work back to a blended ecommerce ROAS target.
Why? For the last year or so, we've seen our clients who were early adopters of this reporting framework come out on top. They assign budgets at top level and then leave it to the channel experts to scale up and down, run tests, roll out new campaigns and strategies, to deliver growth against that topline target. This means that the need for each channel to perform at the target KPI are not put above the business growth objective.
And the results have been amazing – Furniturebox are shortlisted for an ecommerce award for our partnership, driving growth in difficult trading times, last year. They also adopted programmatic display activity over the same period, but continued to track against a total Cost of Sale target.
There's many more clients that have put their trust in our specialists to manage the total budget effectively, to achieve the overall growth target – contact us if you have a challenge you'd like to discuss!
3) Invest in your customer base
Loyalty schemes are a great way to incentivise your great customers to keep advocating for your brand and increase repeat purchase rates. In difficult times, it's always tempting to focus on customer acquisition but the real opportunity sits within your own database.
If you compare the cost of acquiring a new customer, with converting an existing customer to second purchase, you'll quickly see that by investing in some clever technology to keep your brand front of mind with your existing customer base, it's well worth it to drive up the bottom line.
And there's solutions for all budgets: Yotpo, LoyaltyLion and Reviews.io all offer tailored solutions which integrate with most ecommerce stacks. Mention Me is another great solution, certainly for those with a higher AOV product or who have a high sales volume. If you don't know where to start – one of our senior team would be happy to offer some advice on a free consultancy call.
---
4) Know your numbers
If you can't paint a clear picture on where your sales are coming from and how your current customer base is behaving, how do you know where to fish for more great customers, and which platforms you should avoid as they're not delivering a quality customer?
It's worth using a data intelligence solution (and there are plenty available depending on the complexity of your set up and website platforms) to monitor key KPIs – we'd recommend as a minimum getting a handle on;
Value of an opted-in email customer vs a non-opted-in customer
Customer Acquisition Cost (CAC)
CAC by channel
CAC over time – is this stable?
Lifetime Value (LTV) – all time and last 2 years / by product category
RFM segments – who are your best customers?

Who are not as valuable (i.e.) refunders or time low AOV customers

Cost per order (CPO)
Infinity Nation also offer a 'vendor due dilligence' service – allowing you to proactively review all these metrics and deep dive into channel opportunities. This is perfect for businesses that might want a healthcheck before trying to secure funding, or those who have been through a change in ecommerce lead – we can help you see the wood from the trees and set your strategy to maximise growth impact.
---
5) Prioritise your website – think SEO!
The IMRG Ecommerce Leaders Opinions Report cited SEO as a top priority for ecommerce leaders' strategies in 2023.
And it's about time everyone saw this channel for what it can deliver, if aligned with overall product and marketing strategies:
Too often, SEO is overlooked, for the following reasons (and more!):
Previous bad experiences with SEO agencies / contractors that promise page 1 rankings and immediate returns
Lack of confidence in SEO forecasts due to volatility of algorithm updates
Expensive and drawn out audit processes, meaning longer lead times to see results
Requirement for developer and internal implementation time, bloating workloads (and budgets) further
But when SEO is done right, you'll find a partner who:
Invests in industry-leading tools, to shortcut manual data collection and analysis processes
Identifies the root cause, beyond the audit tool's typical spit out, saving time and improving processes for the longer-term
Is generous with their knowledge – your internal team need to adopt new processes and ways of completing regular tasks (i.e.) adding new products / retiring products. Working with a partner who consult and upskills your team, means over time you don't pay an agency to do tasks your internal team can do
Can prioritise effort vs reward, to meet your macro KPI, and show improvements against micro KPIs (e.g.) overall conversion rate improvement positively impacting all channels, not just SEO.
If you want to change something, you need to change something!
Are you currently neglecting SEO in favour of paid channels?
Are you nervous about investing in your website asset for future growth?
Are you seeing increasing paid media costs, and therefore climbing CPAs in your business?
We'd be happy to put you in touch with one of our consultants for a chat where we'll discuss your options and share previous experiences.
---
Key points to remember to grow in challenging times
Thanks for reading and exploring some of the concerns for ecommerce leaders and what you should consider, to change the narrative and demonstrate growth, despite difficult trading conditions:
Don't pause your prospecting activity – it fills your funnel
Implement a blended ROAS or CPA target for all channels
Invest in keeping your customers – not just finding new ones
Know your CACs from your LTVs – they'll matter if you need external investment
Take the leap and invest in your website – SEO is key for stabilising long-term customer acquisition cost.
If you are interested in working with Infinity Nation and discovering how we can help you grow your brand, please do get in touch – we would be happy to share our experiences and learn about your challenges.
DO YOU WANT TO PUSH YOUR DIGITAL GROWTH STRATEGY FORWARD? LET'S CHAT.
Interested in working with INFINITY NATION to create a successful digital experience for your company or product?
Get in touch to set up a meeting with our team.